In September 2008 I bought my first car: a Toyota Prius 2G, this model was launched 4 years ago then and the next model was launched some months later. And nowadays it's 9 years old and have a bit more than 150,000 km.
At that time had a few characteristics that made it unique to the rest of cars, mainly that was hybrid and its aerodynamic silhouette called Kammback.
Years later and nowadays, the hybrids are popularly known, but at that time it was not so much and the next questions were frequent:
How does it move without the engine being heard?
Do you have to plug it in?
Have not you noticed that there are not many electrolines[1]?
Does it pay off?
And do you use that joystick for change gears? 🕹
How long does the battery last?
How much would it cost you to fix the battery?
AA or AAA batteries? 😂
At first, there were situations like:
Near traffic lights and pedestrian crossings, some people watched the car as it passed in silence.
Once, an elderly gentleman waited until I finished parking to ask me some questions of the previous ones. I remember he told me that it was the first time he saw a car moving in silence. 😊
The silhouette also captured glances, once someone told me that it looked "sporty" due the silhouette and the back.
In my city there were very few hybrids.
Reasons to buy
Reliability, as I said at the beginning it had been used for 4 years by taxi drivers and people and everyone seemed happy and without breakdowns. In addition it was in the top positions of the lists of reliable cars.
Safety, I remember that ESP[2] was an paid optional equipment on other models that I liked in 2008. In the Prius it was standard as traction control and also had good Euroncap score.
Equipment, standard equipment included that in other models in 2008 were optional or in superior classes: cruise control, keyless entry and start, regenerative braking, start & stop, etc.
Consumption and emissions, I like the idea of making more km with less fuel and at the same time contaminate less.
Differentiation, I found attractive to drive a unusual and different car from the rest.
Faults and maintenance
Zero faults, none.
I also have to say the maintenance of the vehicle always happened in the workshop of the official dealer where I bought it and always within the timeframe indicated: every year or 15,000km
I can't compare because of being my first vehicle, but compared to vehicles of friends and relatives of similar segment, the revisions appear to be equal or somewhat smaller. Depending on the revision that was, the price varied between 80 and 240 € in Spain.
In addition, there were elements that I never had to change, like the brakes (neither discs nor pills). I always tried as much as possible to take advantage of the deceleration and the regenerative brake to not use the mechanical brakes, first for not to waste them and second to store energy in the hybrid battery that is used later.
One anecdote about reliability
I never had a breakdown, but there was only one time that the car failed me.
And perhaps at the worst possible moment: a cold January morning that the car was in the street, when we needed to go quickly to the hospital because my son Aitor was going to be born, the car did not start when the button was pressed.
In the afternoon of that same day, I went to try to start the engine and yes, it started at the first try.
It was the 12V battery, the battery service that all the cars have, which began to accuse the almost 6 years that it was lasting and next to the cold of that moment, prevented it from fulfilling its mission.
What a day and a moment to fail, right?
Consumptions
One of the strengths of the car: homologated from 4.2 l/100km in extra-urban to 5 l/100km in urban.
Some comments about it:
My average consumption was between 4.4 and 4.8 l/100km
With dynamic driving, between 5.2 and 5.4 l/100km
With efficient driving, I got between 4.1 and 4.5 l/100km
I want to highlight that with speed control active at 80-90 km/h the Prius consumes less than 4 l/100km easily.
Never exceeded 6 l/100km. I remember that the worst deposit was of 6 l/100km, with difference to the other consumptions and in a special situation: it was a cold and rainy winter days that I moved intensely in city with the systems of heating, demisting, wiper and with load.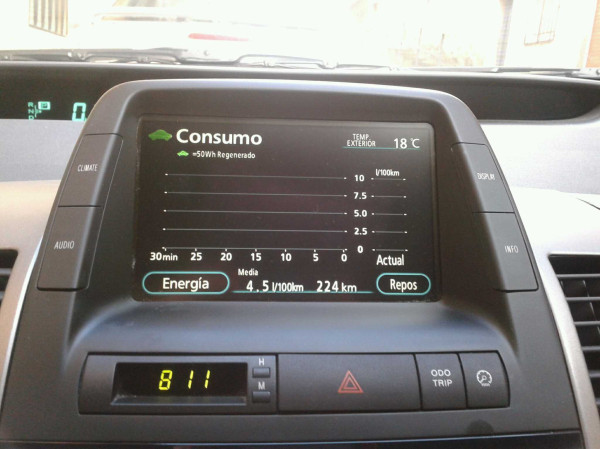 The best
Consumption, the best car in town. Competitive on the road considering its dimensions and using gasoline.
Comfort due to the automatic change, space of the rear seats and a trunk of 408 liters for its size.
Equipment: previously I detailed some of the equipment that was standard in 2008. Today, some are still optional for other many cars.
The worst
Lighting: no longer just the interior, it was weak to see some buttons at night, but the outside to see the road. Even changing standard H4 bulbs for premium ones, they could not be enough. The rear brake lights were LED.
Sensitivity to lateral wind, for example if there was some side wind on the highway, you could see that the car was turning towards the direction of the wind. It was also noticeable when overtaking trucks on the highway. I imagine due to the aerodynamics, but it worsened the good feeling of driving.
Grab and seat position, it is true that it is not a racing car, but they grab less than any car I've ridden. On the other hand, I think it was designed for drivers much lower and slimmer than I. Even in the lowest and farthest position, it seems high to me. I don't think it is suitable for drivers over 1.90m.
Conclusion
Does it pay off
Comparing similar cars of their size in those years and their consumption, with expenses of maintenance, taxes, etc. I think clearly that yes, the superior price of purchase is compensated with its lower costs in fuel, maintenance and taxes.
Would you repeat with a hybrid?
Yes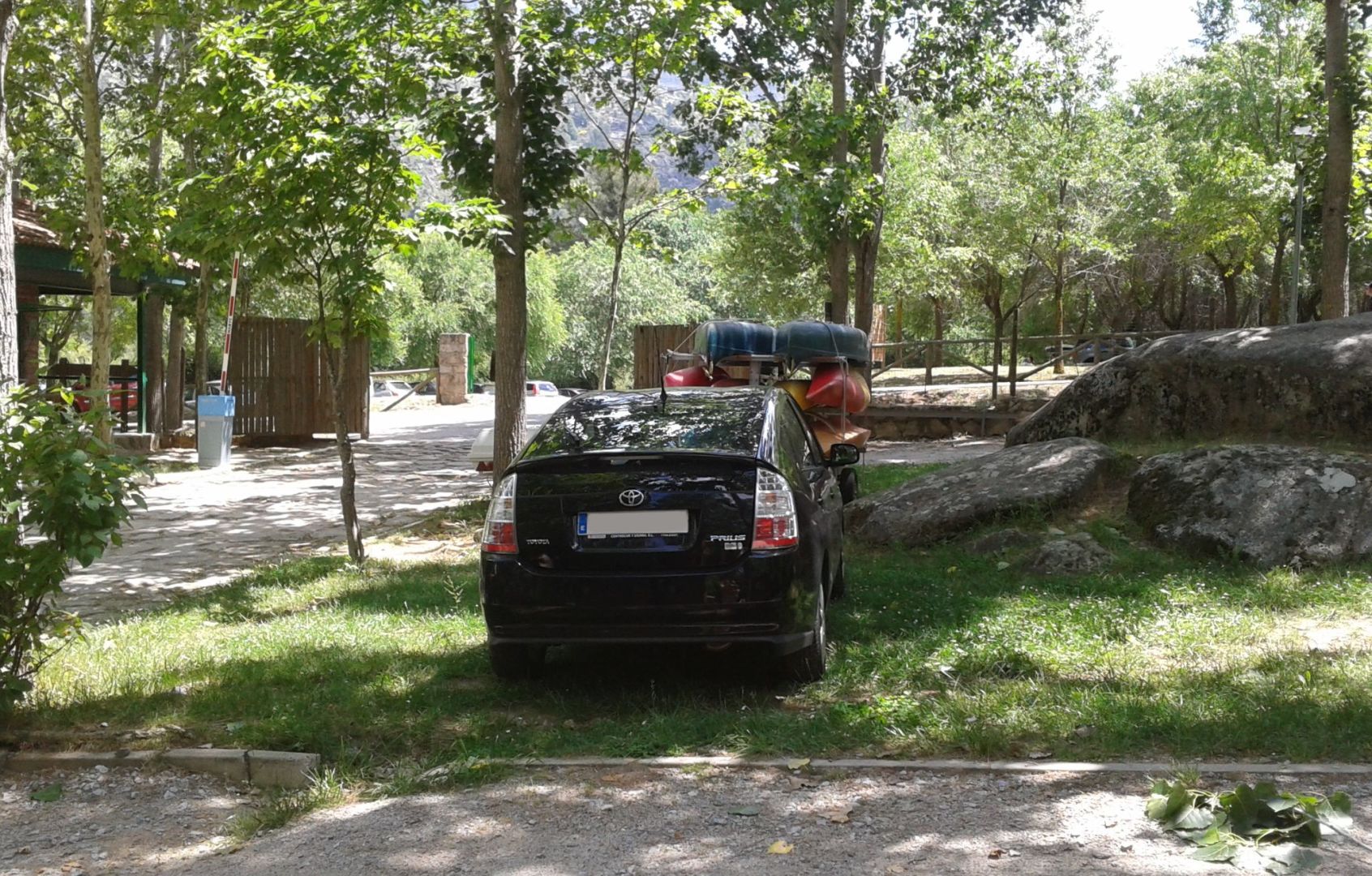 Leave a comment with what you think about hybrid cars and with any question or doubt you have :)
---